"You're dead. Your friends are dead. Your family's dead. Your fucking pets are being skinned alive. Your mom's a fucking whore. You suck at life. The whole world hates you. You're going to Hell. Live with it. Game Over." – Via the ever so wise Nintendo Sensi, James Rolfe.
He wasn't wrong you know. Although the original Friday the 13th game for the Nintendo Entertainment System seemed like a horror fan's 8-bit wet dream, the frustration of gameplay quickly softened any prepubescent boners we may have had going into this pixelated LJN nightmare. I would never refer to it as a giant piece of donkey shit like some may have dubbed it, but the game itself is a goddamn pain in the ass for sure to get through without blowing your blood pressure out of range.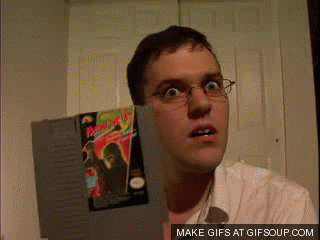 Anyway, today being the 13th of Friday here at Nightmare Nostalgia, I figured now is as a good as time as ever to showcase something that any fan of the NES game would appreciate the Holy Pixels out of. Youtube channel Mega64 brought about this hilarious fanmade movie trailer back in 2015 of you guessed it-Friday the 13th The Game The Movie. And it is goddamn gloriously nostalgic from those days of throwing ineffective knives at zombies and flying Pamela Voorhees rotting heads. Complete with VHS static to give it that retro feel, the fanmade trailer nails every aspect of the game that we love to bitch about endlessly. They even throw in the old joke of Jason's machete looking like a giant toothbrush gag.
It doesn't really get any better than that folks. Happy Friday the 13th campers!