It has been a year of loss and pain. Our lives have been turned upside down, put on hold, or altered forever. One way or another, not a single one of us has been spared from the scars. Our nation has experienced a lifetime of trauma in less than a single calendar year, to say nothing of the upheaval of the social battles that have been fought day after day not only this year but for the past four and beyond.
We are hurting mentally and physically, emotionally and financially. We have experienced holidays where we have been unable to see our family and friends. The easy fixes of the past–going to the movies or a ballgame, swinging by the pub for a few beers with loved ones, or just popping by for a visit–have been ripped away from us. Each day blurs into the next, with nothing to look forward to that would offer the slightest variation between Tuesday and Saturday, and it has left us feeling very alone.
Experts have informed us time and again to stay in touch with those closest to us because it's important to combat the isolation as much as social distancing will allow. That calling or texting or Zooming with those we love, however briefly, will help to alleviate the loneliness that has characterized 2020.
But despite not a single paycheck coming in for the entirety of this horrific year—a stark and terrifying reality that far too many can relate to—Adam Green never stopped giving. Never stopped reaching out. Never stopped providing us with something to look forward to. Hours upon hours of preparation fueled by nothing but a desire to keep people connected or giving them a reason to forget for a few hours.
The first image of the CORONAPOCAPLYSE appeared on March 23 with Green seated at a table rocking glasses and a Holliston tee shirt, a steaming cup of coffee to his right, about to embark on a fireside chat of sorts. Whether you call it fatherly or grandfatherly, for the next three days the filmmaker became a calming comforter as he read I, Survivor, the fictitious novel he co-wrote with Joe Knetter outlining the life story and harrowing events of the Honey Island Swamp massacre experienced by Hatchet III's (2013) Andrew Yong (Parry Shen). The worries and fears of the world raging outside the walls of our homes slipped away and for a few hours everything was alright. We could breathe. We could smile. Because we were together.
Every day through April 19, Green aired a live stream on YouTube to provide an outlet for those alienated from their lives. From features including DIGGING UP THE MARROW (2014) and the HATCHET series to every episode of HOLLISTON (2012) and ArieScope's Halloween shorts, Green shared his library of creativity free of charge and it touched countless lives.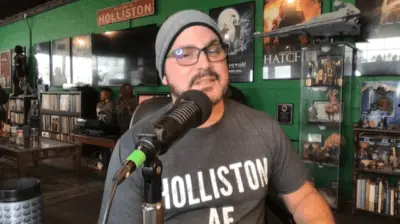 When the original CORONAPOCALYPSE came to a close, Green looked into the camera and offered a simple but touching message: "We'll get through this," continuing, "stay safe. Stay healthy. Keep being nice to each other. And keep talking to each other because talking helps."
The shot faded from Green to a scene from HOLLISTON where his character felt as though he'd reached the end of his rope, that he couldn't go on. And Oderus Urungus (the late Dave Brockie) delivered as motivational a speech as Adam's imaginary friend was capable, asking "what it would have been like if (he'd) hung in there for just one more day," echoing the words of Green's close friend Dee Snider who encouraged him to chase his dream before HATCHET (2006) came to fruition with the words, "don't you ever give up."
With the gorgeous "Flying Theme" from E.T. THE EXTRA-TERRESTRIAL (1982) swelling underneath, images of Green's work began cycling through to the beats of the John Williams before a message appeared:
"This was Adam Green's CORONAPOCALYPSE." but as the music continued powering us through tears, "Adam Green's" faded into "OUR," and if it hadn't already been clear before, it was beyond dispute in the moment: this was not about anything more than giving the fans something to hang on to. Hope that the sun would shine again, and that the pandemic would one day fade into memory.
To the right of the screen was a chat, and as the final images played out, it was clear how much the CORONAPOCALYPSE had meant to so many:
"Got out of work just in time to cry."
"It's been a great 28 days!"
"THIS WAS EPIC."
"Beautiful."
"JUST ONE MORE DAY!"
"Thank you Adam and the whole @ArieScope family. I love you all and I will always remember and be grateful for this."
Just before the final note rang out, in a nod to Snider and HOLLISTON and SCARY SLEEPOVER, one fan wrote "METAL!" Clearly, the Movie Crypt Fam is just that–family.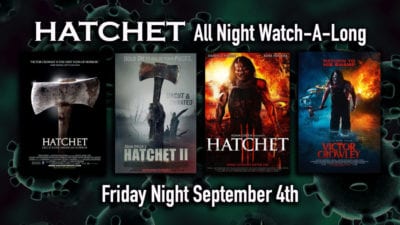 It didn't end there, however. In September, CORONAPOCALYPSE II streamed the entire HATCHET and HOLLISTON series on back-to-back nights and again provided something to look forward to–an event filled with laughs and togetherness.
All the while, not a single week of the Movie Crypt podcast (hosted by Green and fellow director and HOLLISTON co-star Joe Lynch) was missed because of the pandemic.
To say nothing of the resurrection of the SCARY SLEEPOVER (2015) series in July with comedian Doug Benson, where Green once more demonstrated his deep understanding of what the people needed–an oasis.
The final two episodes of SCARY SLEEPOVER strategically aired on Thanksgiving and Christmas nights featuring fan favorites Corri English (HOLLISTON) and Parry Shen (HATCHET series), respectively. For many, holidays normally spent in the company of loved ones were instead endured alone, until 6 o'clock Pacific when Green and his guests delivered conversation and smiles and laughs and memories that left all who watched them feeling a bit less isolated.
Then came Yorkiethon 5, the Movie Crypt's annual fundraiser for the Save a Yorkie Rescue for abandoned and abused Yorkshire Terriers. For years Green and Lynch welcomed guests into the ArieScope Studio for a 48-hour marathon where their motto is "we stay awake so they don't get put to sleep." But with the Coronavirus, having guests was not an option, so Green and company simply Zoomed with the likes of Anthony Mackie and Barbara Crampton and Joe Bob Briggs and raised nearly $30,000 in a year when money has been (for nearly everyone) harder to part with than ever before.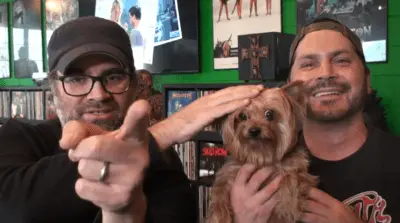 And all that, the streams and podcasts and series, without a single paycheck coming in for Green himself.
In a year where it seems everything has been taken away from us, Adam Green has never stopped giving. From laughs to love, Adam Green selflessly devoted innumerable hours of his time to give us what we needed more than anything–hope.
Those who follow Green know that he's an empath with an enormous heart, but never has his love for the fans been more evident than in the most difficult year of our lives. Before signing off on the first CORONAPOCALYPSE (which this writer still can't watch without tearing up), Green said "I hope that you get everything that you want in life. I love you," and it's time we make it clear that the feeling is very mutual.
"Keep being nice to each other. And keep talking to each other because talking helps." Green wasn't merely pontificating, he was simply informing us of what he planned to do. And he kept his word.
May you get everything you want in life, Adam Green, because no one deserves it more. We can never thank him enough for what he's given us these past ten months, but what we can do is make two things abundantly clear: we are grateful, and we love him back.