Halloween in Las Vegas can be quite overwhelming, and certainly different from the rest of the country. While "Sin City" can boast some of the wildest Halloween parties the world has to offer, locals and tourists alike who crave a real good ol' fashioned scare in the form of the classic haunted house mostly have to venture off the Strip (and as a local I appreciate that) to get to the stuff that doesn't involve an overcrowded club of endless sexy nurses. However, if you find yourself in the Downtown Arts District area that remains a popular spot but not in an anxiety-ridden way, you'll stumble across an ambitious little theater- The Majestic Repertory Theater- that focuses primarily on the modern and yesteryear American canon, and gives emphasis on giving young theatre artists an opportunity to build their skills while showcasing unique and original theatrical programs that includes an original Krampus production coming in December. This 2018 Halloween season, artistic director Troy Heard has assembled a retro horror lover's dream in the form of an interactive haunt that is meant to set off some serious nostalgic bells, and possibly terrify the hell out of you. For a limited few days only, the Majestic Repertory becomes HORRORWOOD VIDEO- Vegas' first RETRO INTERACTIVE HAUNT!
BE STILL MY BLACK NOSTALGIC HEART..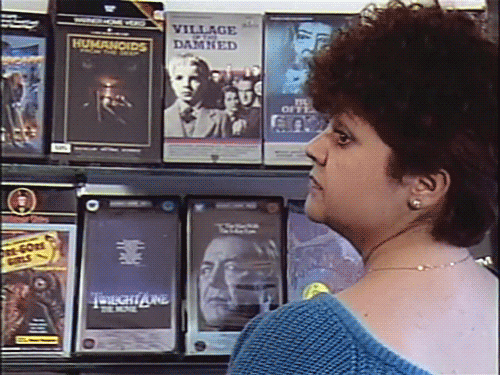 PER THE PRESS RELEASE:
The premise is every horror geek's dream: Horrorwood Video is the last place in Vegas where you can find the best fright flicks. Tonight, however, insane clerk Leon has opened up a vortex. Once you step through it, you'll find yourself stuck in the middle of your favorite 1980s horror films, including "The Hex," "Gym Class of the Dead," and "Slaughter House Massacre 5: Pig-Gut's Revenge." The question isn't just whether you get out safely…but will you accrue enormous late fees while trying?

HORRORWOOD VIDEO is created by Majestic Rep's Artistic Director Troy Heard, who also created the immersive experiences JONESTOWN, MOTEL and MEASURE FOR MEASURE. "I grew up watching all the classic slashers – Jason, Freddy and Michael – but I also came of age with movies such as THE MONSTER SQUAD, GREMLINS and THE GOONIES. Although they weren't pure horror flicks, they had a sense of adventure that's coming back into fashion with STRANGER THINGS," says Heard. "This year, I wanted to create a very theatrical haunt that combines those genres and taps into that particular vein of scary fun. We're creating scenes from these fictional movies that totally could've existed in 1988 and casting you in them when you enter Leon the Clerk's vortex. You'll actually go trick or treating, join a teenage witch's coven and go camping with some unsavory types as you walk through the experience. And I promise there are plenty of scares around every corner."

HORRORWOOD VIDEO will be open Thursday, October 25, through Sunday, October 28, from 7 p.m. to midnight each night. Admission is $15; VIP tickets are $20 and include a one-time-only front of the line pass and exclusive HORRORWOOD VIDEO swag. Majestic Repertory Theatre is located at 1217 S. Main Street. Tickets are on sale October 1st at www.horrorwoodvideo.com. Call 702-423-6366 for more details.