You thought little Georgie getting his arms ripped off by a demonic shapeshifting entity was the end of the little guy? Think again! In an exclusive announcement provided to Nightmare Nostalgia, fellow comrades over at Creepy Kingdom have partnered with Pennywise: The Story Of IT and Unearth and Untold: The Path To Pet Sematary creator John Campopiano to bring us an unofficial sequel in the form of a short film starring none other than the original Georgie himself, Tony Dakota!
With the working title of "GEORGIE", this would be Dakota's first return to the screen in over 25 years. And what better format than a trip back into the sewers that catapulted his status as a renowned icon in the horror industry; and quite possibly, one of the most memorable scenes not only in the Stephen King universe but in the horror genre as a whole. Also, you might be wondering how this would even be a possibility as clearly enough, Georgie was mincemeat at the hands, or teeth rather, of Pennywise. Well, here's your answer:
Near the intersection of Witcham and Jackson, Georgie Denbrough's young life came to an abrupt and tragic end. His paper boat–assembled from a Derry News newspaper with care by his older brother, Bill–had careened down a sewer drain and into the hands of what, not who, would be his killer. Its maiden voyage into death. But what if Pennywise the Dancing Clown hadn't killed Georgie after all? What if Georgie had somehow escaped death and managed to live some semblance of a normal life in the not-so-normal town of Derry? What might his world look like? Or that of the Denbrough family? Would this horrific experience color their view of the universe? Like the themes explored in Stephen King's IT, what role does grief, memory, and the confronting of our childhood traumas as children play here? GEORGIE is a snapshot of this very scenario–an experiment in fantastical reinventions that proposes an alternative reality in which, maybe, Georgie Denbrough still walks the earth. But even then, maybe, not everything is at it seems.
To get this wonderful, and personally speaking, intriguing project off the ground, the creators have launched an IndieGoGo campaign in collaboration with horror clothing experts FRIGHT RAGS and Theater of Creeps to help cost the cover of production.   Including a RAD new GEORGIE shirt seen serving as one of the many super cool backer rewards.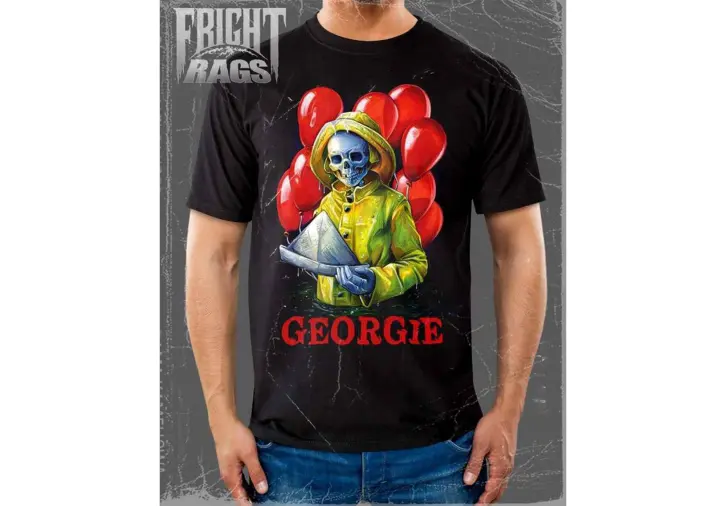 GEORGIE stars Tony Dakota with John Campopiano as Producer/Co-writer along with Ryan Grulich as Director/Co-writer with James H. Carter II serving as Executive Producer. 
John Campopiano is an audiovisual archivist, film writer, and producer living in Boston. He co- wrote, produced, and directed the 2017 documentary, Unearthed & Untold: The Path to PET SEMATARY and is writer and co-producer on the forthcoming documentary, Pennywise: The Story of IT. Ryan Grulich is a writer/producer/director based in Seattle. He produced the 2017 film, Foolish Mortals, a documentary about Disney's Haunted Mansion, and has directed several short films including, I Hate Halloween, which premiered on July 28, 2018.
Established in 2013 Creepy Kingdom, run by James H. Carter II, produces original Films, Podcasts, and Events. They also cover the spooky side of Films, Theme Parks, and Beyond. For more information on GEORGIE go to http://www.creepykingdom.com.