I can say with absolute certainty no other announcement you'll see on this momentous day that one day someone will write a song about, (or Hell, year even) is more important and glorious as this one. LP soundtrack and VHS converter specialist company Terror Vision is releasing an OFFICIAL soundtrack from the national treasure program THAT IS Unsolved Mysteries.
Upon learning this, I had to take a minute to get my shit together so I could help spread the wonderful gospel…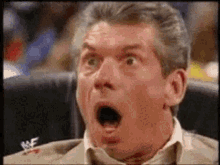 Yes, friends and fans of the nightmare-inducing late 80's and 90's weekly program full of ghosts, murders, and tales of good ole' Nessie. Ryan Graveface (of Graveface Records) has made all of our horror soundtracks dreams come true with never before released tracks from the show! In collaboration with UM creator John Cosgrove, Graveface has put together an LP that any die-hard fan will treasure for years to come. Complete with five (5) Unsolved Mysteries theme songs/closing credits, ghost-related cue music and missing/wanted scores! It's important to note this soundtrack has NEVER had a release before in any format. And now, we not only get to relive the soundtrack and themes that were, and still are, the stuff of pure nightmares, but a special bundle including a kick-ass tee shirt and enamel pin are being offered as well with an Unsolved LP single!
Per the site from Ryan Graveface:
Immediately after "inking the deal" with John Cosgrove (Unsolved Mysteries creator), I was sent several hundred DAT tapes of all the music for the show. So from February until a few weeks ago I would spend several hours a day making sense of everything. The single LP version features my personal favorite songs from the ghost related segments of Unsolved Mysteries whereas this triple LP set contains EVERYTHING written for the ghost segments. This version is very very limited as it's really just meant for diehard fans.
The UNSOLVED MYSTERIES GHOSTS / HAUNTINGS / THE UNEXPLAINED 3XLP VERSION:
Triple LP version featuring 5 UM theme songs/closing credits, 120 (!!) ghost related cues and the missing/wanted music.
First time the score has been available on any format!
Audio pulled from original tapes / remastered
Triple Gatefold Stoughton packaging / 3 full-color inner sleeves
Liner notes from creator John Cosgrove, composer Gary Malkin & Ryan Graveface (me!)
Choose your vinyl colorway:
180 Gram Colored Wax
180 Gram Black as night
Also available with a Tee and enamel pin bundle package!
UNSOLVED MYSTERIES: GHOSTS / HAUNTINGS / THE UNEXPLAINED SINGLE LP BUNDLE:
This bundle includes the single LP on your choice of black or colored vinyl, a tee with the "galaxy" logo and an enamel pin designed by Chloe Pinnock. The tee and pin will NOT be available outside of this bundle.
Single LP version featuring 3 UM theme songs, 29 ghost related cues and the missing/wanted music.
Audio pulled from original tapes / remastered

Gatefold packaging / full-color inner sleeve
Choose your vinyl colorway:
180 Gram retail/mailorder color ("Last Light" variant for those keeping track)
180 Gram Black as night
180 Gram Hand-Poured wax  (Terror Vision Subscribers only – join to receive)
As these are never-before-released tracks, I can only assume this will sell out fairly quickly. Join me, and click the links above to get your pre-order in with an expected arrival to your home date in July!