If you clicked on this little list I've put together, then chances are you're quite familiar with the paperback trilogy of nightmare nostalgia we're about to dive deep into the rabbit hole with. Also, I'm willing to bet a good portion of you still have these books. In which you most likely bought with your lunch money at your third-grade book fair. I myself, unfortunately, don't possess a lot of my childhood treasures from my youth due to a nasty fire that demolished a good portion of my materialistic belongings. However, one of the things I managed to hold onto despite disasters, multiple moving vans, and the entrance of adulthood is, of course, all three 1986 Harper Trophy Editions of "Scary Stories To Tell In The Dark".
The urban legends that were revised and compiled into an anthology of books by Alvin Schwartz paired with haunting illustrations by Stephen Gammell, were the ultimate trophy on our bookshelves. And an absolute necessity for those Friday night slumber parties or weekend camping trips. Not much has changed, at least in my household anyway, as these books have stood the test of time and continue to encourage reading to now my own two little ones. Just as I would grab one of my books, and read to my own father in his chair when I was a much smaller Patti, I continue with the "Scary Stories" tradition as my kids now read to me. It's wonderful and refreshing to know that I'm not the only parent who has passed down these nostalgic tales to their spawns and that the trio of books that parents once hated, has overcome the odds and still holds a near and dear place within our hearts.
37 years ago, the first installment of "Scary Stories" was published and is listed as being the seventh most challenged series of books for its violence and surreal, spine-tingling illustrations. Cool huh? Schwartz then followed with two more books, More Scary Stories To Tell In The Dark in 1984, and Scary Stories 3: More Tales To Chill Your Bones in 1991. In honor of the first books' 35th anniversary this year, I've put together a fun nostalgic list of the 10 best tales from "Scary Stories To Tell In The Dark" series. This was no easy task thinning a list down to just ten, but I'm pretty satisfied with my final selections. So while we're all patiently waiting for the highly anticipated Scary Stories To Tell In The Dark documentary to be available for public consumption, let's celebrate 37 years of real Nightmare Nostalgia.
10. "High Beams"
The tale as old as the ages and that has been told countless times and parodied in film makes number ten. This retelling of the story of a woman who is in very real danger not from who's following her, but what lurks inside her car is based on a similar story that came out of Waverly, Iowa about a man hiding in the back seat of a woman's car. She had stopped to get gas, and the attendant noticed the presence of a male figure in the back seat. He did not giver her change, so when she returned to pocket the rest of her money after pumping her gas, the attendant informed her of the situation and called the police.
9. "The Wolf Girl"
This legend that is retold by many cultures throughout (mostly) the Southwest, involves a newly born infant whose mother did not survive childbirth and the baby was nowhere to be found. The father who had made the discovery in the story also took notice of what looked like wolf tracks around the area, so it was assumed the baby had been eaten by wolves. A few years later, people would report sightings of a young girl running around naked with long hair in the company of wolves. Numerous legends of children raised by wild animals or left to fend for themselves have inspired such books as The Jungle Book and Island Of The Blue Dolphins. However, Schwartz's version is my favorite.
8. "Such Things Happen"
Witches had a pretty bad rep back in the day, and still, in present times, are scoffed at by those who don't understand. Schwartz based this tale from an American legend where a man is believed to be tormented by a nearby witch and takes it upon himself to try to stop her. According to Schwartz's notes, "I adapted and expanded this theme to point up the conflict between education and superstition that may arise when an educated person feels like they are out of control." And the tale he wrote is a pretty great little story.
7. "The Drum"
This odd tale of two beastly children whose selfish wants become an unimaginable consequence is a cautionary tale told to children through the ages to basically behave or you're getting a goddamn mother with glass eyes and a wooden tail in place of the one you have now. That's actually pretty terrifying. The tale seems to have originated from England in the nineteenth century and then migrated to the states.
6. "Just Delicious"
This one made me laugh more than most of the featured comedic tales that were often found towards the end of the book. This tale has been revised in many different countries and the theme stays pretty similar. The stories usually involve a man, while Schwartz swaps gender roles in his story, whose family is starving steal a heart or liver from a nearby funeral home to feed his family. Later that night, the ghost would come looking for said missing organ and take the lives of those who consumed it.
5. "Bess"
As an avid animal lover, this one hurt the feels a tad when I was young. Based on an old European legend originally called "Oleg's Death", the story follows the same structure as in this book. The tale of a man who lived in fear of a horse, for it was foretold the horse would cause his death. Presumably, entering the safety zone after the horse falls victim to old age…. LOL. Yeah, not so much buddy.
4. "The Red Spot"
This irked the shit out of anyone who suffers even the mildest cases of arachnophobia. This creepy story derives from the folklore of foreign entities (such as these eight-legged monsters) invading our bodies and setting up residence. Or you know, laying a thousand eggs inside your cheek while you sleep. Stunning.
3. "The Haunted House"
The legend of a young woman's murder and the preacher who helped put the spirit at rest by locating the murderer is likely one of the most beloved and remembered stories from Schwartz's trilogy of terrors. It's definitely among the most unique of tales found within these books as stories of haunted house resemble one another, this one has a bit of a twist whereas the ghost of the young woman is not threatening whatsoever, but a spirit wanting justice. Of course, justice and revenge run rapid throughout "Scary Stories". However, this one just hits all the right notes.
2. "The Thing"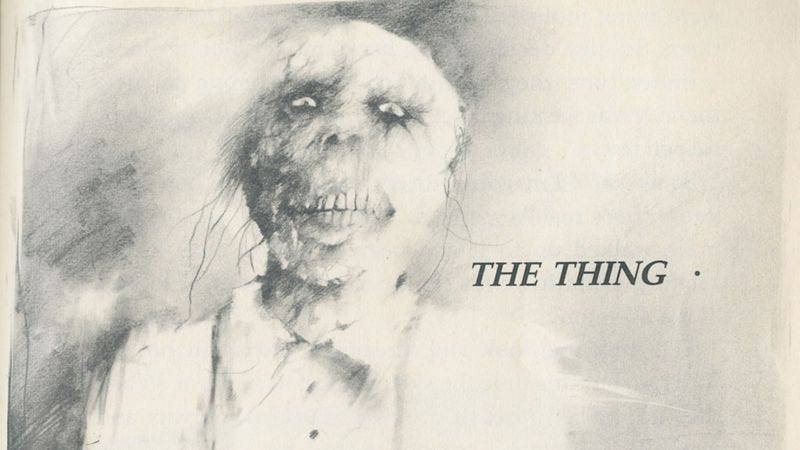 Lawdy does that picture give me the beautiful skeevies. The tale is based on a folktale out of Nova Scotia in a book called Bluenose Ghosts where "the thing" is an actual warning of ones own impending death.  I'll take the guy in the robe over that face any day, thank you.
1. "Harold"
Oh Harold, you silly scarecrow. Don't you know laying out skin in the sun too long gives it wrinkles? You need to take some notes from Buffalo Bill. Anywho, the walking menace from the cornfields makes numero uno as the tale remains to this very day, the creepiest tale to come out of these books. The story of Harold is retold from a legend that came out of Switzerland and quite honestly, stories about man creating a life and it ultimately becoming something they can't control is a tale we've heard time and again. From Mary Shelly's Frankenstein to the Jewish tale of the Golem, Harold resembles the outline of such said stories as the creature that has been given life ultimately turns on its master. We all love stories of killer dolls. It is for that reason, this tale tops off this list.
What are some of your favorite stories from the books? Comment below and let's talk nightmare fuel.
Scary Stories Paperback Box Set: The Complete 3-Book Collection