Chances are if you were a child of the '80s and '90s, you may remember this thing we used to have every Saturday morning- cartoons. Cartoons everywhere. From 6:00 am up until noon when the Saturday afternoon movies would begin, it was an animated festival of gloriousness. We sat in our PJs, sipped on Ecto Cooler, and ate about three bowls of sugary diabetic cereal, with remnants of dried milk on our little metal TV trays. And sometimes, we'd break for a quick play of Super Mario 2 on our NES.
Yep. Those were the glory days.
Saturday morning cartoons, with the exception of a few cartoon networks, have become a thing of the past. If I may be so bold- THAT JUST SUCKS. I feel bad for current or future generations of children who have their media content so scattered, and walk around watching YouTube all goddamn day long. (Am I showing my age yet?). But hey, whose to say Teen Titans GO! won't be fondly remembered by my eight-year-old twenty years from now. I guess only time will tell.
Anyways enough with the rambling, today we'll be focusing on one of the greats of the '80s- Hulk Hogan's Rock 'n' Wrestling. Say what you will about this weirdly awesome Saturday morning gem, but I will defend its epicness until I cease to breathe. The WWE (ugh I still call it WWF) spiked during the mid-'80s and goddamn if it wasn't everywhere- mostly thanks to a yellow speedo wearing, all-American hero by the name of Hulk Hogan. Love him, or hate him, he made the sport a rite of passage for every man, woman, and child during that time and you just have to respect that. I'm not even sure Wrestling would be as mainstream today if it wasn't for Thunderlips, I mean Hogan. At night, we had Saturday Night's Main Event, and in the morning, we had Rock 'n' Wrestling. 
And it all began like this…
The DIC Entertainment series ran originally on CBS Saturday mornings from 1985 until 1987 featuring the shenanigans of Hogan and buddies who usually had to deal with Piper and his "baddie" comrades in the face of seriously wacky situations. For instance, having to rid Bobby Heenan's Rock 'n' Wrestling theme park of a hoard of zombies. (That one, in particular, was my favorite by far) You know, typical Saturday morning fare for us growing up. Unfortunately, due to the wrestler stars hectic schedules, their animated counterparts were voiced by actors. Fun little fact, comedian, and Everyone Loves Raymond star Brad Garrett voiced Hogan. However, in between the usual two-story episode, we would get a break in the middle with a live-action segment of a wrestler in some sort of awesomely ridiculous skit.  I can't make it clear enough the ones featuring Hot Rod were the damn best.
The series that ran for only two seasons featured "faces" Hulk Hogan, Junkyard Dog, Captain Lou Albano, Andre The Giant, Hillbilly Jim, Jimmy "Superfly" Snuka, Tito Santana, and Wendi Richter. The "heels" led by "Rowdy" Roddy Piper included Nikolia Volkoff, The Iron Sheik, Mr. Fuji, Big John Studd, and The Fabulous Moolah and was an effort to cross-promote the rock-n-wrestling connection that primarily involved pop music icon, Cyndi Lauper. That being said, I really feel like there was a huge missed opportunity there not including Randy Savage in this Saturday morning national treasure. I mean, can you imagine an animated reign of madness? Holy snopes, what could have been, will never… dammit.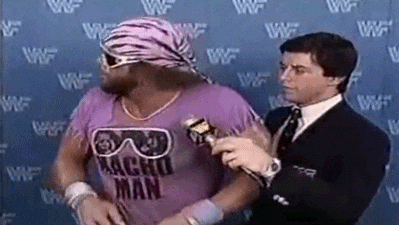 Sigh… They just don't make them like this anymore. I'm still patiently waiting for a streaming service to pick this up, and while I'm not sure if it will ever come to fruition, there is a five-disc DVD series offered by RetroTVMemories.com here.  Or, if you really want to do things the correct way, Amazon has seasons available on VHS. I mean, if we're going to bask in "Real American" nostalgia, what better way than blowing into your VCR head and reliving your childhood once again.
WWF: Hulk Hogan's Rock 'n' Wrestling, Vol. 1 [VHS]