Need 43 minutes to waste? Call up your local Pizza Hut, grab your 20-year-old TMNT pillowcase and let's get down on some horribly bad costumed Ninja Turtles on the Oprah Winfrey show.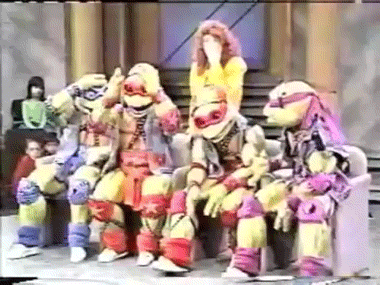 You'd really have to be living in a sewer back in the late '80s and early '90s if you hadn't seen a single episode of Teenage Mutant Ninja Turtles. Skateboarding teenage amphibians and talking rats along with Bebop and Rocksteady were LIFE. I'm proud to claim my insane devotion to TurtleMania that swept the era of Saturday Morning goodness. However, I don't know if I can ever have the strength to defend that insanely wacky "Coming Out of Their Shells" album and tour from 1990.
Good God, it's Magic Mike, Donatello.
Yeah, I got nothing. No words.
Anyways, on the heels of a successful Saturday morning national treasure, and that first feature-length kick-ass movie, the Turtles moved into the music scene with a live tour and album- sponsored by who else? Pizza Hut, duh.  The "Coming Out of Their Shells" tour was promoted on the original release of the TMNT VHS movie from 1990, (if anyone actually remembers), among countless commercials from the nationwide pizza chain. The show itself, which did air live on Pay Per View once, showcased the mean, green heroes dancing, singing timeless hits such as, "Pizza Power" and "Skipping Stones", and playing instruments because hey, they were a band now.  We had Donatello on keys, Leonardo on bass guitar, Michelangelo on guitar, and Raphael on drums while also making Kenny G envious of his sweet saxophone skills. Of course, the show wouldn't be complete without the Turtles' arch-nemesis Shredder. And oh yes, his costume is just as awfully stupendous. The Shred-Head, along with buggy brainiac Baxtor Stockman, invent a device that steals all the music in the world while also weakening the Turtles if they stand too close to it. So there we have an epically staged corn fest of singing turtles saving the day. But man, it sure didn't seem that way when we were kids. Am I right?
Or maybe not…
Well in any regard, the power of the Turtle was so strong even the mighty Oprah had to acknowledge it with a full show dedicated to the four mutants and their traveling live album. The audience was PACKED with little TMNT enthusiasts as you can umm, see above. I would only assume that the horrified look above may have been from Oprah's question to the Turtles on whether they wished April was a turtle-like themselves. Which good ole' Ralphel replies, "Well, I've been trying to talk her into an interspecies relationship for months now." That poor woman playing April O'Neil looks so mortified.
Something tells me there is NO WAY that would fly in this day and age. Ahh, well gotta love the '90s! Check out the entire show below courtesy of the Digsy channel.